The Amador Division
The breathtaking Amador Central Railroad traces the contours of rolling hills revealing panoramic views from the foothills of the Sierra Nevada Mountains all the way to the Coastal Ranges. Just 45 minutes south of Sacramento, surrounded by gold rush towns steeped in history, wineries, and warmed by the northern California sun. This is Gold Country - the Heart of the Mother Lode.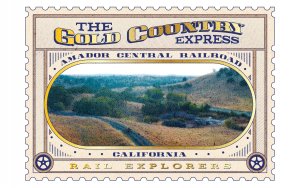 You'll ride the Amador Central Railroad, originally called the Ione and Eastern built in 1904. Imagine the hills crowded with miners hoping to strike it rich during the gold rush of the 1800's. Bring a drink and snack to enjoy at the turnaround area above the old Newton Copper Mine, built in 1863.
All Explorers are fitted with the 'REX Propulsion System' - custom built electric motors that make the 8 mile round trip journey truly effortless.
Gold Country Express Tour Pricing (8 mile round trip with electric pedal assist):
Tandem Explorer: from $95 (two riders @ $47.50pp)
Quad Explorer: from $175 (up to four riders @ $43.75pp)
10% discount for bookings of 10 or more (conditions apply)
Parking and check in for all tours: 702 Hunter Lane, Ione CA 95640