About Rail Explorers
Inspiration:
The inspiration to start Rail Explorers originally came from a scene in a Korean soap opera. Back in September of 2012, Mary Joy Lu (who started Rail Explorers with her husband Alex Catchpoole) was watching one of her favourite K-Dramas and became intrigued when she saw a strange contraption being pedalled along the railroad tracks.
Travel to South Korea:
Mary Joy was so excited by this extraordinary looking rail bike that within 10 days she was on a plane to South Korea to meet with the designer and manufacturer of the vehicles. Mary Joy, Alex and other Rail Explorers employees travelled back to Korea in 2015 to learn more about the unique business. Rail Explorers was then able to bring a fleet of explorers to the USA. This was the first time these rail bikes had been seen anywhere in the world outside of South Korea.
First Days:
Rail Explorers operations began on July 3, 2015 in New York's Adirondacks and the response was extraordinary. 'It was a shock,' remembers Alex, 'we really had no idea that it would take off the way it did. It was really exciting to say - wow, maybe we are on to something!' 
'After 3 years of dreaming and planning, of hard work and putting in every dollar we had, to finally get to opening day and see the joy Rail Explorers brought to our riders was incredibly rewarding.' 
Since that day more than 600,000 people have enjoyed Rail Explores tours in the Adirondacks, Delaware, Rhode Island, Las Vegas, New York's Catskill Mountains, Cooperstown, NY, Iowa, Kentucky and California!
Stay tuned for more news as the team searches for more exciting rail locations around the USA and the world!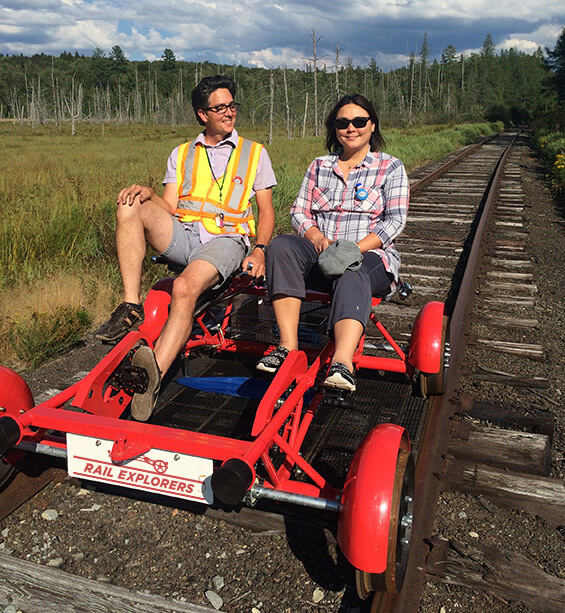 Rail Bike History:
Pedal powered rail vehicles date back to at least the 1850's, when maintenance workers used hand-cars and 'rail bikes' to travel along the tracks. They were used to transport crew and materials for track inspection and repairs. Today, there are a variety of designs in use around the world: the 'Draisine' of Europe; modified road bikes with an outrigger wheel, and in the USA other railbike tour companies offer hobby style, lightweight 'rail riders' with aluminum frames and plastic wheels.
Our commercial grade explorers are the 'Rolls Royce' of railbikes, and are the global leader in safety, design, performance and ease of operation.
In a world first, Rail Explorers have developed the 'REX Propulsion System' - a custom built electric assist motor that makes the experience truly effortless, even when climbing the steepest of inclines.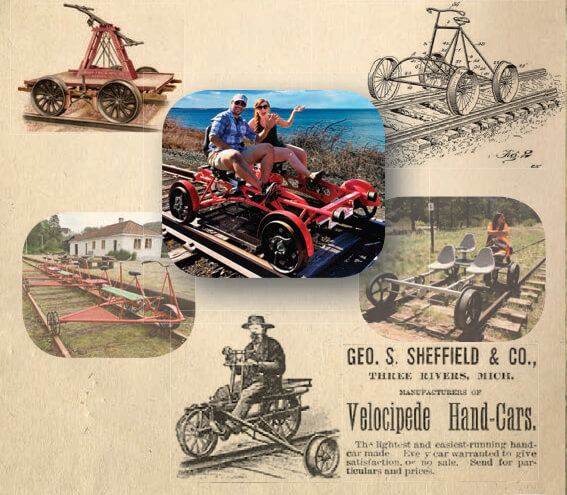 Please contact us if you have questions.